Auto
Chevrolet launches Cruze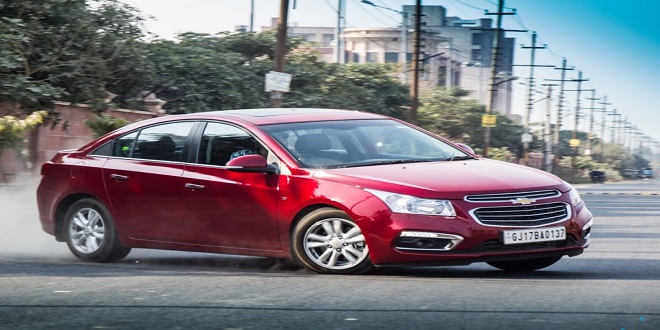 General Motors hopes its new Chevrolet Cruze sedan, given its first public viewing at the 2008 Paris Motor Show in September, will finally make it a respected contender in a hotly contested U.S. segment. The new car is fundamentally stronger than the model it replaces (in the U.S, that is the Cobalt), boasting 140% better torsional rigidity to give the Cruze a solid feel that is beyond the reach of the Cobalt. The Cobalt's hard, shiny cabin surfaces are gone.
The Cruze, in contrast, has an abundance of soft-touch surfaces, with even hard surfaces bearing a textured, matte finish that looks more expensive than it is. This is supplemented with the use of a nylon mesh material in dash, seat, and door inserts that recalls a stretchy bungy net or other equipment holder for outdoor gear.
Avoiding the excuses given in the past about cost or customer preference, Peter Mertens, Global Vehicle Line Executive for Compact Cars, boasted of the Cruze's features. "I'm convinced this interior is a step forward in materials," he said. "It will have state-of-the-art powertrains, and it is absolutely top-ofthe-segment in body stiffness." The Cruze will carry the same taut
sleek (0.31 Cd) styling in all its global iterations, with the goal of establishing Cruze's concave shoulder line as a brand design cue, but there will be variation under that flowing skin. Not only will there be different powertrains in different markets, but the chassis itself will vary depending upon local crash-protection requirements to ensure a maximum score
in each country's test, Mertens explained. In particular, there will be reinforcements to the B-pillars and the rocker panel area of cars for some markets, but not for others. "We will add or delete those as local safety standards require," Mertens said.
The Cruze debuts in European markets in March, powered by one of two gasoline I4 engines, a 112-hp (84-kW) 1.6-L and a 140-hp (104-kW) 1.8-L, plus a new 150-hp (112-kW) 2.0-L turbodiesel I4, all backed with standard five-speed manual gearboxes. An available six-speed manual gearbox will debut as a segment-first offering for Chevrolet.
Future engines include a detuned 125- hp (93-kW) version of the diesel engine, and in the U.S. there will be a 1.4-L turbo gasoline engine, according to Mertens. The Delta platform that underpins the new Cruze is meant to be extremely flexible, serving as the foundation for other models such as the next-generation Opel Astra, which is about a year away. It can also be stretched larger, as demonstrated by the Chevrolet Orlando concept vehicle, which targets the popular MPV segment in Europe. Although not yet announced, the Orlando is certain for production there. U.S. availability remains a topic of discussion within the company, according to Mertens.